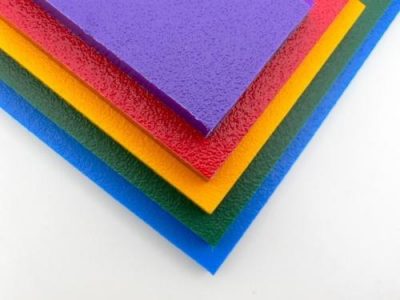 Specification
| | |
| --- | --- |
| Max. Width | 1220mm (4 feet) |
| Thickness | 0.25mm to 3.5mm |
| Surface finish | Plain, glossy, matt and embossed |
| Colours | Plain and metallic |
| Size | Cut to size or rolls as per customer requirements |
High Density Polyethylene Sheet
HDPE is the high density version of PE plastic and is harder and denser than the LDPE, but is less ductile, and lighter than water. HDPE- FILM/SHEET/LINER/GEOMEMBRANE has proved to be a boon especially for developing countries like India by playing an important role to prevent the air and groundwater pollution. The best thing about the HDPE is that it can be easily moulded and welded together and the use of UV Stabilizers improves its weather resistance.
HDPE Geomembrane lives up to the expectations which are demanded in today & world of environmental engineering. Our HDPE's prime motive is to keep the Nature clean.
Features:
Excellent chemical resistance
Good Fatigue & Wear Resistance
Resists organic solvents, degreasing agents & electrolytic attack
Great cutting board material
Environmental Stress & Crack Resistance
Chemical Resistance
UV and Thermal Weathering Resistance
Conformation to sub-soil movements
Water Resistance
Tear Resistance
Puncture Resistance
Repairable
Recyclable
Very low permeability
Applications:
Insulation
Industrial floor lining
Tanks and Vessel
Vacuum forming
Thermoformed Parts
Folding tables
Folding chairs
Storage sheds
Containment of certain chemicals
Corrosion protection for steel pipelines ( Insulation )
Snowboard rails and boxes
Fences
Spinning Cans
Packaging
Automobile spars
Water Treatment plants
Landfill
Pond lining, Oil Trap Pit lining & for fabrication of Vessels
Ducting, Tanks lining.